Let's imagine you are the CEO of a company that manufactures a product- say, bicycles. But of late you see that there has been a gradual decline in the sales of the bicycles manufactured by your company, leading to losses and a demotivated team. What would you do? Think of measures to cut down losses and identify where the problem lies, isn't it? And maybe devise new ways to counter the problem at its root. Yes! You are absolutely right!
This exact situation at the Motorola Company in 1980 forced Bill Smith to devise a concept called Six Sigma. This new concept revolutionized the world, and in a short span of time, it found widespread use in the business world, with many companies using the technique to cut down losses. This concept aims to reduce the following:
A similar problem faced by Toyota made it design Lean manufacturing, which aims to reduce any wasteful component in any production process.
Lean Six Sigma combines both these tools to create a company, which is profitable and a great company to work for.
Lean Six Sigma Certification
Today, there are various governing bodies that deliver Lean Six Sigma certification, such as TUV SUD, EXIN, ASQ, IASSC, CSSC, KPMG, and more.
A White Belt certification is the most basic level of certification that one can possess. White Belt holders can guide the management regarding changes needed in an organization as well as accompany project teams.
The Green Belt Certificate holders possess skills to provide their services as trained team members. Green Belt holders are usually expected to work on smaller Six Sigma projects, but they don't have a full-time commitment to the organization.
Black Belts have to look after more significant projects and also have a full-time responsibility towards the organization they look after.
Lean Six Sigma Certification Pathways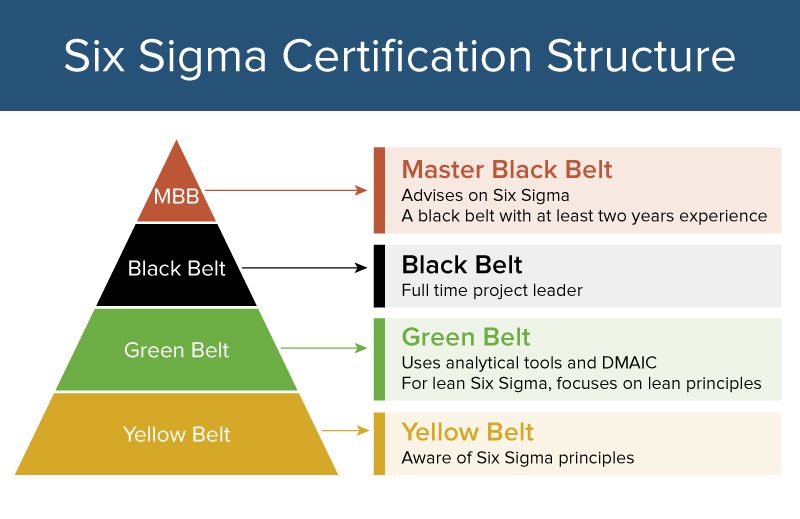 There are two different pathways through which one can achieve certification in Lean Six Sigma. First is the stepwise method, and second, by taking a single standard comprehensive certification examination.
In the first pathway, you start by using the free Self Study Guides provided by the governing bodies. You may seek help from training providers. You then sit for several exams, taking you step by step up the ladder of Lean Six Sigma certification. This pathway is beneficial to all of you who have no prior experience in this area, as it provides you with all levels of certification (white belt, green belt, yellow belt, and black belt) gradually, at no extra exam fee.
The second pathway is certification through a single standard comprehensive examination. This is intended for those of you who have a basic understanding up to the level of Green Belt and have received training before. You simply have to register for the standard comprehensive examination, pay the exam fee, and clear the exam.
Pros and cons of the two certification pathways
Pathway 1
Ideal if you want to use the self-study guides and earn different belts for a thorough understanding of the basics. It gives you the freedom to have as many attempts at the exam as you want. If you are not comfortable with a timed format of the examination, then you should definitely choose this format.
Pathway 2
You should go ahead with this pathway if you have a basic understanding of the subject or have had prior exposure and are looking to clear the exam in a quick time. In this pathway, first, you need to attend the respective training in Lean Six Sigma Yellow Belt training or Lean Six Sigma Green Belt training and later take up their respective LSSYB and LSSGB certification exams. Upon clearing those exams, you will receive an official certification credential from the respective governing body. These Lean Six Sigma certifications are globally recognized and help you to stand out from your competition and demonstrate your expertise and commitment toward a Quality Management career.
Lean Six Sigma Exam pattern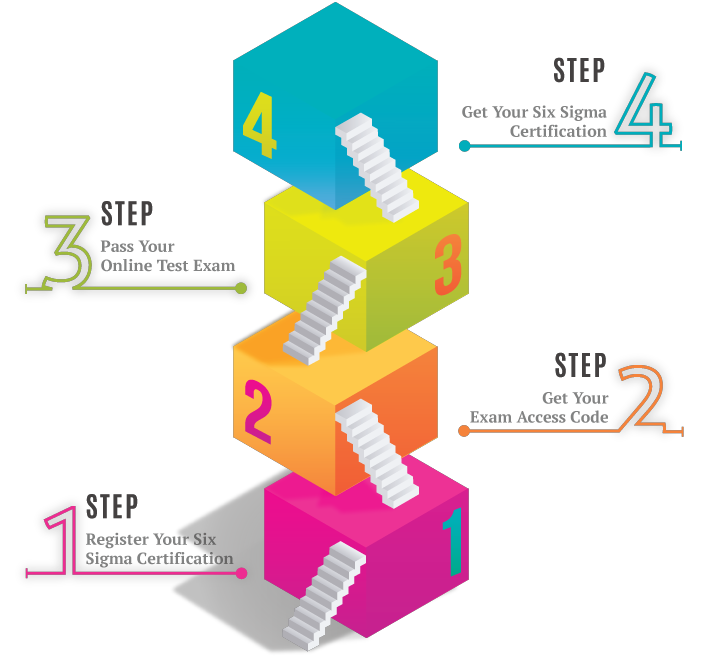 At Spoclearn, we provide Lean Six Sigma certification training from TUV SUD, IASSC, and EXIN. Participants can choose the program according to their choice and popularity in their respective regions.
For more information on the Lean Six Sigma certification exam pattern, you can visit the official page of Lean Six Sigma Yellow Belt certification training and Lean Six Sigma Green Belt Certification training to better prepare for the training.
All Lean Six Sigma certification exams are multiple choice questions and are closed book. Participants can take up these exams either as paper-based or web online proctored examinations from exam institutes such as PeopleCert, Pearson Vue, EXIN, and other portals.
Lean Six Sigma Certification Training Eligibility Criteria

Different Lean Six Sigma courses have different requirements, which are mentioned below:
Lean Six Sigma White Belt Training– There are no prerequisites to take up this training as this is an introductory level training that is aimed at entry-level positions across sectors.


Lean Six Sigma Yellow Belt Training– Again, there are no prerequisites to take up this foundation-level LSSYB training program. Yellow belt is aimed at professionals with little or no experience and is aimed at quality assurance teams and professionals who serve under green belt professionals.


Lean Six Sigma Green Belt Training– This LSSGB is an intermediate-level quality management training program that is aimed at project managers, quality managers, product managers, and others. Lean Six Sigma Yellow Belt is not mandatory for taking up the Green Belt training. However, it would be highly beneficial if one has an LSSYB credential as one will have all the foundation-level knowledge to easily understand the more complex concepts from Lean Six Sigma Green Belt Training.


Lean Six Sigma Black Belt Training– This LSSBB is an advanced-level quality management certification program that is aimed at Six Sigma Project and Program managers. They are the ones who champion complex Six Sigma projects in an organization. LSSGB is a mandatory requirement for professionals taking up the LSSBB training program.


How to achieve Lean Six Sigma Certification?
To obtain the professional certificate of Lean Six Sigma Green Belt, you must clear the certification exam as mentioned above with a score of a minimum of 280 points out of a maximum of 400 points. There is no project requirement for this level of certification. However, for Lean Six Sigma Green Belt Level II, there are project participation requirements.
On clearing the examination and meeting all prerequisites, you shall be awarded a soft copy of the certificate immediately from the respective governing body. This Lean Six Sigma certificate has lifetime validity. The certificate contains a unique identification number, which is verifiable online.
There is no need to renew the Lean Six Sigma certification. But if at any point in time, you feel the need to have a fresh certificate, you can always retake the exam successfully. For this, you shall still need to pay a fee, but the amount is lower than before.
Conclusion
Lean Six Sigma Certification is a very useful tool to increase your worth and fetch you greater roles and responsibilities in the corporate world. It is a one-time investment toward making your CV stand out from the crowd. Spoclearn is a pioneer in providing Quality Management certification training for both professionals and enterprises worldwide.