For businesses looking to create stronger flexibility within their organization the Scrum framework offers a tried and tested method to generate adaptive solutions and value. The method follows four core steps:
Product Owners in assistance with a Scrum Master address complex concerns and translate them into a Product Backlog.
A Scrum Team is onboarded with the guidance of a Scrum Master to turn segments of the process into increments tackled during a sprint.
After the Scrum Team completes the sprint, stakeholders are invited to assess results, and feedback is generated to incorporate into the next sprint.
The process is repeated until the completion of the project.
The flexibility of the Scrum framework allows businesses across a variety of industries and at different enterprise sizes to address unpredictability and problem-solving. The scrum process emphasizes courage, focus, commitment, respect, and openness around corporate concerns.
In a way, Scrum is easier to implement as it has a transparent approach that introduces continuous improvement through practical application. As a result, meeting customer needs is a simpler process and a quicker method of reaching profit and revenue goals.
What is a Scrum Master?
In order to successfully implement the Scrum framework, a Scrum team must be onboarded with a Scrum Master at the helm or training should be provided to the existing team Certified ScrumMaster (CSM) or Certified Scrum Product Owner (CSPO) from Scrum Alliance or from any other governing bodies such as Scrum.org or Scaled Agile Inc will help in this regard. The Scrum Master is inherently in charge of ensuring a true Scrum process is implemented over the course of the undertaken project. They are responsible for holding the Scrum framework together, ensuring all processes required are successfully completed and the product owners along with the Scrum team are aware of the system and results.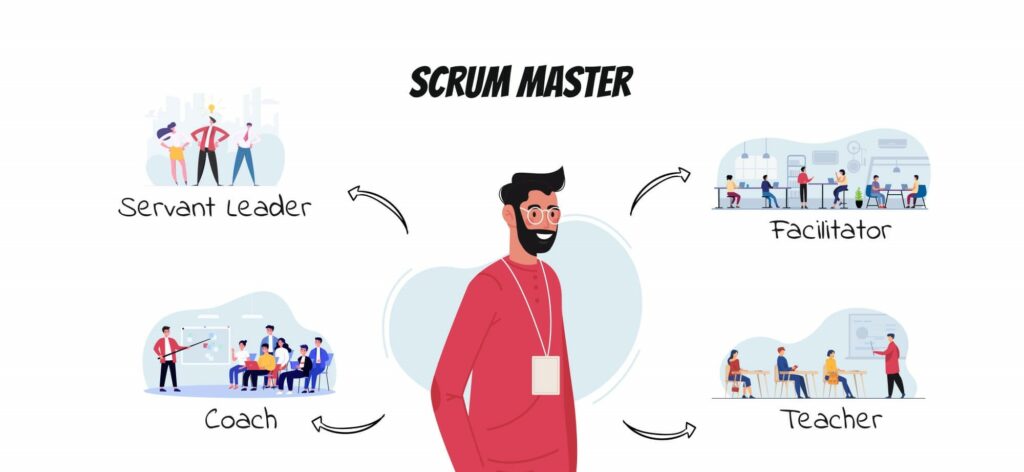 The "State of Scrum" report revealed that 89 percent of businesses implementing an agile system utilize a scrum approach with 65 percent of these organizations hosting a scrum coach in-house and 86 percent of them holding a daily scrum.
Scrum masters do not hold weight in the decision-making process. Rather, they take on a lodestar position guiding the team through scrum processes with expertise and experience. This means the scrum team does not necessarily need to have an understanding of the process. The Scrum Master offers the required theory, practice, rules, and values of the scrum process.
Benefits of Scrum Master Training:
In order to hold a scrum master position, training and certification are required to validate the skills needed for leadership in this capacity. With Agile methods taking the corporate landscape by storm, the credentials are not only beneficial to the business but to the holder as well. Benefits of getting scrum master certified include:
1. The Ability to Successfully Implement Scrum:
Professionals implementing scrum in novice or professional capacities greatly benefit from expanding their knowledge and understanding of the same. With this information overcoming obstacles in business environments, especially when managing multiple teams across different departments.
2. Improved Team Management and Open Collaboration:
Certified Scrum Masters are able to create strong sentiments of motivation and leadership among team members. The ability to guide processes to successful completion is aided by strong communication facilitated by a Scrum Master. The credential showcases the ability to pass down experience and skills to lead agile teams to success. It also offers a differentiator between other professionals within the field, offering an edge to prospective employers.
3. Career Enhancement:
Getting scrum master certified offers professionals the opportunity to walk through new doors. Successfully completing the training creates relevance and makes you more competitive within your field. As a result, the salary and benefits packages offered are better than non-certified peers. Additionally holding the right skills indicates a professional's ability to contribute towards business growth and meeting goals, fulfilling the mission, and meeting the vision of the organization.
The CSM Examination:
The CSM or Certified Scrum Master Training is validated by sitting the CSM examination. Candidates need to successfully complete the training hosted by Certified Scrum Trainers (CSTs) and take up the CSM exam online. The CSM certification is similar to the Agile and Scrum Certification available for professionals. It allows for the validation of proficiency in implementing Agile and Scrum practices. Successful completion also offers professionals an opportunity to become a member of the Scrum Alliance for free which is valid for two years.
Getting Scrum Master certified offers a wide range of benefits to both organizations and professionals looking to implement better practices within the business. Spoclearn delivers various accredited Agile and Scrum Courses which include CSM, CSPO, A-CSM, A-CSPO, CAL, and others for both individuals and enterprises globally helping in their pursuit of Agile transformation.